May 3, 2022
Dear Cornell Community,

As we near the end of the semester, we are pleased to provide a few of the many updates on diversity, equity and inclusion initiatives across campus:

The Cornell Division of Public Safety has been established, creating the foundation for a more equitable and balanced approach to campus public safety. This action resulted from the work of the Public Safety Advisory Committee (PSAC), charged in 2020 with evaluating and reimagining a plan for campus safety.

A new website highlighting Cornell's commitment to Indigenous nations and communities within North America has launched. View the website to learn more about Cornell's history with Indigenous communities, as well as stories about more recent projects and research.

An LGBTQ+ Resource Guide for faculty and staff is now available. The guide offers suggestions for best practices for classroom and colleague engagement, a glossary with guidance on the use of appropriate terms and resources available for the LGBTQ+ community.

The Belonging at Cornell Initiative grants Request for Proposals (RFP) is now open for faculty and staff (a grant cycle for students will launch in September). Collaborative projects that align with the university objectives of improving the Cornell experience for students, faculty, and staff and support the environment of Cornell as a great place to study and work are encouraged. Proposals are due June 6.

The Belonging at Cornell framework continues to support initiatives fostering respect and appreciation for difference and strengthening the culture of inclusion and belonging at Cornell. We invite you to review some of the great initiatives going on around campus in this newsletter.

Sincerely,
The Presidential Advisors on Diversity and Equity (PADE)

Avery August, Vice Provost for Academic Affairs
Marla Love, Robert W. and Elizabeth C. Staley Dean of Students
Sonia Rucker, Associate Vice President for Inclusion and Belonging
Advancing Diversity and Inclusion
Upcoming Events
Tue., May 3 at 5 p.m.
Hear Nobel Peace Prize winner Leymah Gbowee's views on how action and activism can shape a just world.
Wed., May 4 at 10:30 a.m.
Join Acting Ithaca Mayor Laura Lewis and Sonia Rucker, Cornell AVP of Inclusion and Belonging, for a moderated discussion with Cedric Alexander.
Thur., May 5 at 12:15 p.m.
Join Kale Fajardo for a talk on postcolonial and decolonial implications portrayed in Filipino films.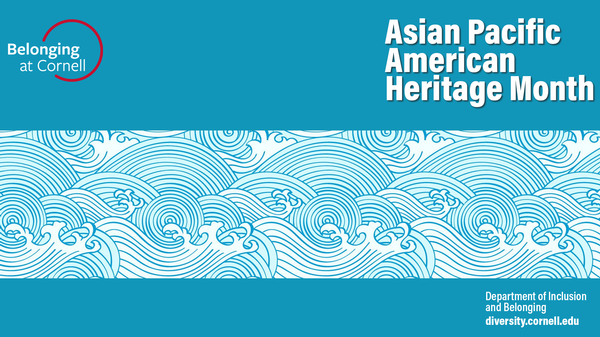 Join Cornell students, faculty and staff in celebrating Asian Pacific American Heritage Month during the month of May. Find diversity celebration resources, activities and events on Cornell's diversity website.