February 17, 2022
Dear Cornell Community,

As we start a new semester amid continued stressors on our community, from the effects of the ongoing pandemic, to acts of racial, religious and other biases, we acknowledge the anxiety, stress and collective loss that many have experienced. We are grateful for our Cornell community that has shown creativity, ingenuity and amazing strength as we continue to work towards a greater sense of inclusion and belonging.

We are pleased to share a few brief updates on institutional initiatives across Cornell. Next steps are in process on the racial justice and equitable futures initiatives with the formation of an implementation committee for the undergraduate diversity education requirement that will start its work this semester. A national search for the inaugural director of the Center for Racial Justice and Equitable Futures has been initiated. Additionally, a new website emphasizing Cornell's commitment to Indigenous nations and communities within North America will soon launch.

Belonging at Cornell engages the entire Cornell community in the university's continued efforts to promote diversity, equity and a sense of belonging. In this newsletter, explore some of the great programs and initiatives that support the objectives of the Belonging at Cornell framework, as well as those that celebrate Black History Month.

Sincerely,
The Presidential Advisors on Diversity and Equity (PADE)

Avery August, Vice Provost for Academic Affairs
Marla Love, Robert W. and Elizabeth C. Staley Dean of Students
Sonia Rucker, Associate Vice President for Inclusion and Belonging
Advancing Diversity and Inclusion
Recent News
More Headlines
Upcoming Events
Fri., Feb. 18 at 3 p.m.
Explore Toni Morrison's artistic and intellectual vision through a screening of the film The Foreigner's Home (2017), followed by a roundtable discussion.
Sun., Mar. 6 at 3 p.m.
Celebrate Black women composers with arrangements of art songs, spirituals, and other works presented by the Cornell Concert Series.
Wed., Mar. 16 at 12 p.m.
Learn about job and internship opportunities with various union, social justice and nonprofit/advocacy organizations.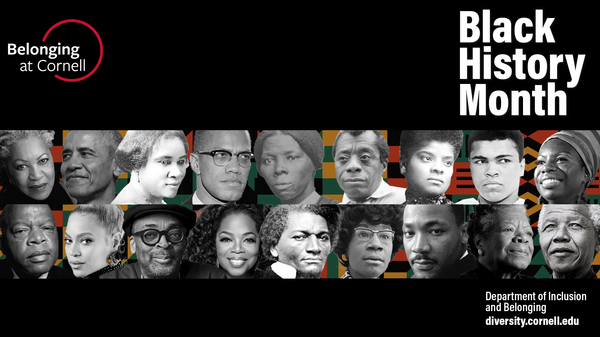 Join Cornell students, faculty and staff in celebrating and recognizing contributions of Black people during Black History Month. Find diversity celebration resources, activities and events on Cornell's diversity website.