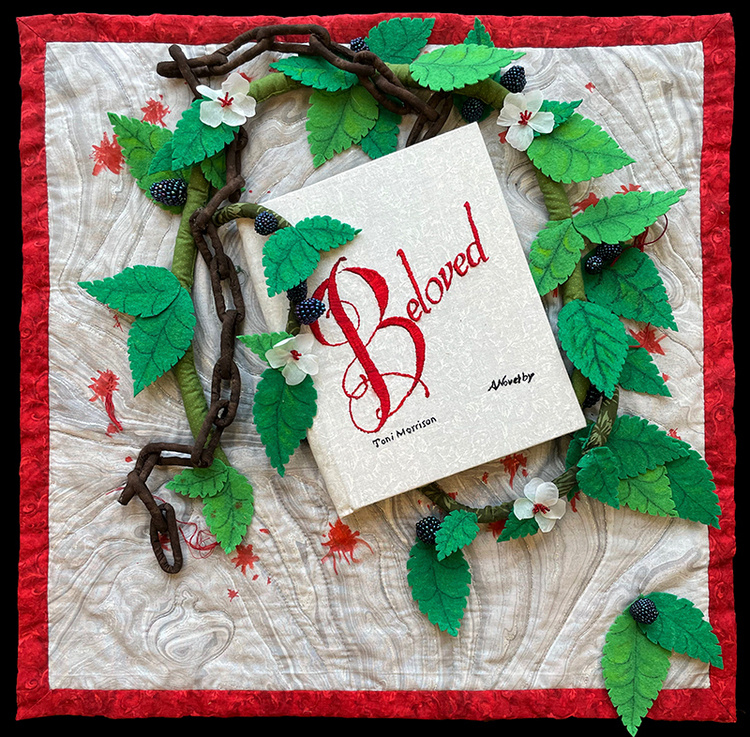 Africana Studies and Research Center
Visit this two-part exhibit celebrating quilting in the African American community.
[Featured image: "Dearly Beloved" by LaQuita Tummings]
Precious Scraps: Toni Morrison and the African American Quilting Experience
Across cultures, quilt making is often a community experience, a chance to work amongst friends and family while creating useful objects for the home made from the scraps of everyday life. In her novels Beloved, Home, and The Bluest Eye, Toni Morrison recognized the importance of quilt making and the contributions to the art form by African Americans. In 2020, a time of isolation, Cornell University Library honored the work of Morrison, who was an alumna of Cornell, and the 50th anniversary of The Bluest Eye by engaging Cornellians and Ithaca community members in a hands-on quilting project that they could do at home while connecting in a series of online lectures and workshops.
The exhibit Precious Scraps: Toni Morrison and the African American Quilting Experience showcases the work created as part of that project alongside texts and other library material that represent the heritage and artwork of those within the African American Quilting Community.
Pieces of Ithaca: A Celebration of Quilting in the Ithaca Community
Throughout the city of Ithaca, quilt making is seen as an art form that effectively works to build community around an artistic passion for numerous Ithaca residents. Quilting holds strong as a part of Ithaca's history and culture and can be seen in various cultural art events, libraries, and museums around Tompkins County. The John Henrik Clarke Africana Library joins with select Black artists of the Ithaca community to specifically showcase and highlight quilts that celebrate Africana artistry and culture. Various West African Adinkra symbols, which represent and symbolize important life events, proverbs, and cultural attitudes, take center stage in the quilts displayed.
The exhibit Pieces of Ithaca: A Celebration of Quilting in the Ithaca Community seeks to build bridges between Cornell University Library and artists of the Ithaca quilting community and proudly showcases quilts crafted by skillful artists who reside in Ithaca and its surrounding areas.
Curated by Patricia Abraham, Africana Librarian at the Clarke Africana Library and Marcie Farwell, Gordon and Marjorie Osborne Textile Industry Curator at the Kheel Center. Original Toni Morrison Quilting Project was coordinated by Camille Andrews, former Emerging Literacies Librarian at Mann Library; Kofi Acree, Director of the Clarke Africana Library; Marcie Farwell; Marsha Taichman, former Visual Resources Librarian at the Fine Arts Library; Leah Dodd, Co-Director for Research Services at Olin Library; Cady Fontana, Librarian at the Tompkins County Public Library, and Brigid Hubberman, Community Quilting Resource Center.
Ties that Bind: Quilting at the Clarke Africana Library is part of the Threads of History exhibition series.
Ties that Bind: Quilting at the Clarke Africana Library on Cornell Events