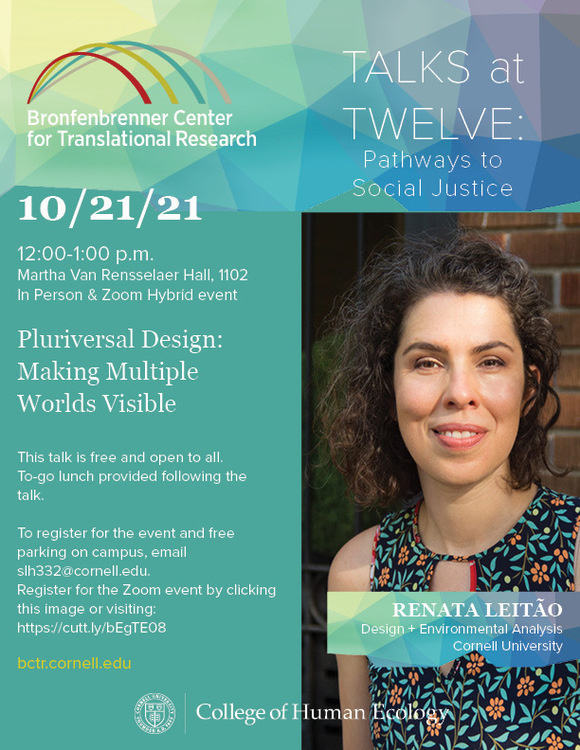 Martha Van Rensselaer Hall, 1102 & zoom
This event is part of the Talks at Twelve: Pathways to Social Justice series hosted by the Bronfenbrenner Center for Translational Research. Register to attend in person or via zoom by visiting the event site.
Dr. Leitão conceptualizes Pluriversal Design as a form of design that engages with diverse worldviews and epistemologies to produce social change. Colonialism is not only about the dispossession of lands and exploitation of peoples; it is also about the destruction of knowledge systems—i.e., the Western epistemic canon became the only valid way to represent the world. Therefore designing for social justice asks scholars to engage with the knowledge systems of colonized and marginalized peoples. It is a very challenging task — other worldviews and epistemologies are difficult to understand because they engender unfamiliar thinking patterns and different assumptions.
Dr. Renata M. Leitão is a Brazilian/Canadian design researcher with eleven years of experience in collaborative projects with Indigenous and marginalized communities. She is part of the College of Human Ecology "Pathways to Social Justice" cohort hire. Dr. Leitão holds a PhD in Environmental Design and a MASc in Design & Complexity (Université de Montréal). She launched, as co-chair, the DRS Pluriversal Design SIG, a research network that aims to highlight multiple perspectives in design, especially from those oppressed by and excluded from mainstream narratives. Recently, Dr. Leitão chaired the virtual conference Pivot 2021: Dismantling/Reassembling – Tools for Alternative Futures.
Pluriversal Design: making multiple worlds visible on Cornell Events