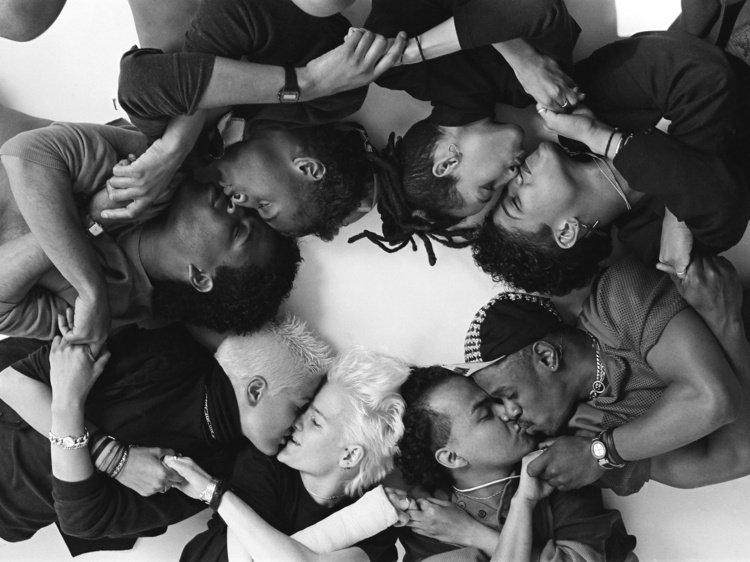 Kroch Library, Michael T. Sillerman '68 Rotunda
"Artists are here to disturb the peace." -- James Baldwin 1961
Through her actions and photography, Jessica Tanzer disturbed the peace. The tradition of Pink Saturday, a street party on the eve of the San Francisco Pride Parade, started as an ACT UP headcount from the ledge outside Tanzer's apartment window in June 1990. Members of the AIDS Coalition to Unleash Power (ACT UP) had come from all over the world to protest the 6th International AIDS Conference. Tanzer helped plan, participate in, and photograph the demonstration. She did the same for Bad Cop No Donut protests of the excessive force city police used against queer people. Further, the anonymous cultural activist collective Boy With Arms Akimbo/ Girl With Arms Akimbo regularly appropriated Tanzer's photography for their protests against censorship and AIDS.
Through her actions and photography, she also sought to bridge cultural divides. She toured mainstream America with her art to show that the things people may fear about LGBT people were undeniably beautiful and not harmful to see. One of her portraits of dancers from The Box, an all-genders queer nightclub run by DJ Page Hodel, became an iconic image celebrating LGBTQ love and community, appearing widely in print and exhibits. This and other images of The Box dancers and the San Francisco queer community in protest, in love, and in life fill the walls of this exhibition.
This exhibition was curated by Brenda J. Marston, Curator of the Human Sexuality Collection at Cornell University Library. All materials are drawn from Jessica Tanzer's Papers in Cornell Library's Human Sexuality Collection.
Presented in conjunction with two companion exhibitions: Berenice Abbott: Portraits of Women, 1925–1930 at the Johnson Museum of Art and Radical Desire: Making On Our Backs Magazine in Kroch Library's Hirshland Gallery. Images by Tanzer also appear in the Radical Desire exhibition.