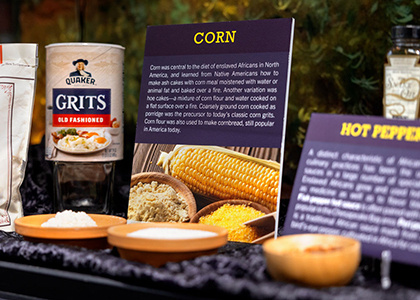 Brian C. Nevin Welcome Center, Lobby
The mission of Cornell Botanic Gardens is to share the deep and enduring connections between the rich diversity of the plant world and the equally rich diversity of cultures worldwide. This garden display and exhibit shares the knowledge, skill, and resilience of enslaved Africans, their descendants, and today's Black community and their deep connections to plants and the cuisines they inspired.
Visit this exhibit at Cornell Botanic Gardens' Nevin Welcome Center (check hours) or browse the exhibit on Cornell Botanic Gardens website.
Exhibit: Seeds of Survival and Celebration on Cornell Events